A 5 Star Dining Experience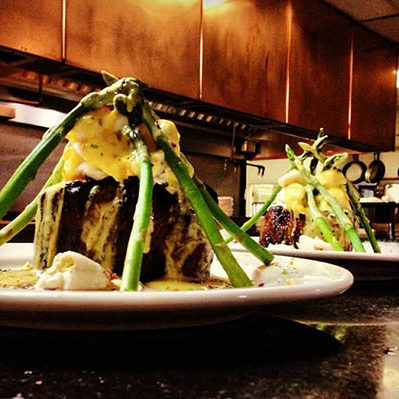 We don't like to be called a strip club. Rachel's is so much more than a strip club. Our guests have the choice of dining in our elegant dining area just off the main room or in the middle of the action to enjoy the best adult strip show in Orlando. We are a gentlemen's club and offer comfortable seating and incredible service.
Reservations for the Steakhouse are not required but are recommended, especially on weekend evenings.
Give us a call at (407) 858-9800
A Rachel's hostess will help you with special dinner or party reservations. The Rachel's full menu can be ordered and served at any bar or table inside providing the ultimate high end adult dinner club atmosphere in Orlando.
Hours of Five Star Dining at Rachel's Orlando Adult Strip Club
Monday-Friday
Lunch 11:30am – 3pm
Dinner 3pm – 1am
Saturday and Sunday
Dinner 5pm-1am
RACHEL'S AU GRATIN POTATOES
Perrier Jouët, "Fleur", Rose
Perrier Jouët, Blanc de Blanc, "Fleur"
Perrier Jouët, "Fleur" (1.5 Liter)
Perrier Jouët, "Fleur" Rose (1.5 Liter)
Perrier Jouët, Grand Brut "Split"
Louis Roederer, Cristal Rose
Louis Roederer, Cristal (1.5 Liter)
Louis Roederer, Cristal Rose (1.5 Liter)
Dom Perignon, Rose (1.5 Liter)
GH. Mumm, Cuvee Renee Lalou
Veuve Clicquot, Yellow Label, Brut
Moet & Chandon, Nectar Imperial
Moet & Chandon, Nectar Imperial, Rose
Moet & Chandon, Imperial (1.5 Liter)
Chardonnay, Far Niente, Napa Valley, 2007
Chardonnay, Jordan, Russian River, 2006
Chardonnay, Chateau Ste. Michelle, Cold Creek, 2006
Chardonnay, Dutton & Goldfield, Rued Vineyard, Russian River, 2006
Inniskillin, Vidal Gold, "Ice Wine", 2007 (375ml)
Inniskillin, Cabernet Franc, "Ice Wine", 2006 (375ml)
Trinchero, "Marios Reserve", Napa, 2005
Caymus, "Special Select", Napa, 2005
Robert Mondavi, "Reserve", Napa, 2005
Ferrari Carano, Prevail, "West Face", Alexander Valley, 2004
Mt. Veeder, Reserve, Napa, 2003
Jordan, Alexander Valley, 2005
Stags' Leap Wine Cellars, Artemis, Napa, 2006
North Star, Washington State, 2005
Stags' Leap Wine Cellars, Napa, 2005
XYZin 50 year, Russian River, 2006
Chateau Ste. Michelle, Canoe Ridge, Washington, 2005
Sanford, Santa Barbara, 2007
Dutton & Goldfield, "Devils Gulch" Marin County, 2006
Chateau Lascombes, Margaux, Grand Cru Classe, Bordeaux, 2005
Chateau La Louviere, Graves, Grand Cru Classe, Bordeaux, 2005
Brunello di Montalcino, Pian Delle Vigne, Antinori, Tuscany, Italy, 2003
Chateauneuf du Pape, J Vidal, Rhône, 2006
Chianti Classico Riserva Ducale, Gold Label, Ruffino, Tuscany, 2004
Amarone, Santi, Veneto, 2004
Shiraz, Colonial Estates, Exile, Barossa Valley, 2005
Cabernet Sauvignon, Cuvee Alexandre, Casa Lapostolle, Chile, 2007
Scotch : Dewars White Label
Gin : No. 10 by Tanqueray, Bombay Sapphire
Bourbon : Crown Royal, Jack Daniels
Tequila : Milagro, Patron
Rum : Bacardi Silver, Captain Morgan
Vodka : Belvedere , Grey Goose Absolut
Rachels Signature by Montecristo
Montecristo Classic Churchill
Romeo y Julieta Reserva Real Torpedo
Perdomo² Limited Torpedo Maduro
Perdomo Habano Toro Maduro
Oliva Connecticut Reserve Toro
Romeo & Julieta Porto Real